Brands missing out on potential $45bn in profit by failing to optimise media budgets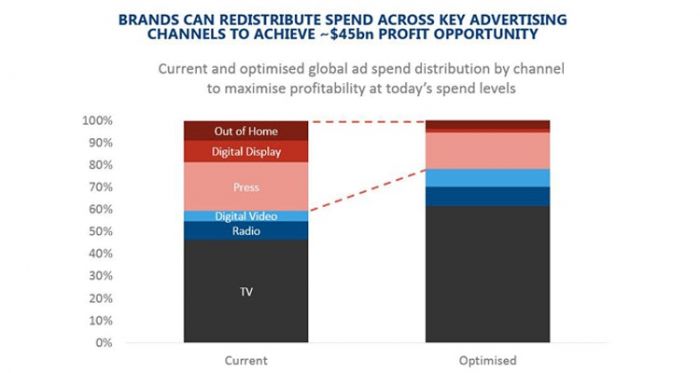 Source: Ebiquity
Brands are missing out on a potential $45bn in profit because they are failing to optimise media allocation, investing too much in digital display and not enough in more traditional formats, according to new research.
The study, undertaken by Ebiquity, used data from 2,500 campaigns over three years and was regionally weighted in order to build a global number. It includes only channels where Ebiquity could study profit impact at different spend levels, so search, influencer and in-app advertising are not included but any digital display and online video, including on social channels, are included.
The total media investment analysed represents $375bn in global ad spend, or roughly three-quarters (76%) of the total global ad market. It finds that had that same spend been optimised based on ROI contributions of each channel, it would have generated an extra $45bn in global profits for brands.
Plus, if brands reallocated marketing investments, overall marketing ROI could rise from 2.83x to 2.95x – an increase of 4%. And for brands that want to cut budgets, if they reallocated budgets to optimise media spend, they could spend $15bn less on media and still generate the same profit.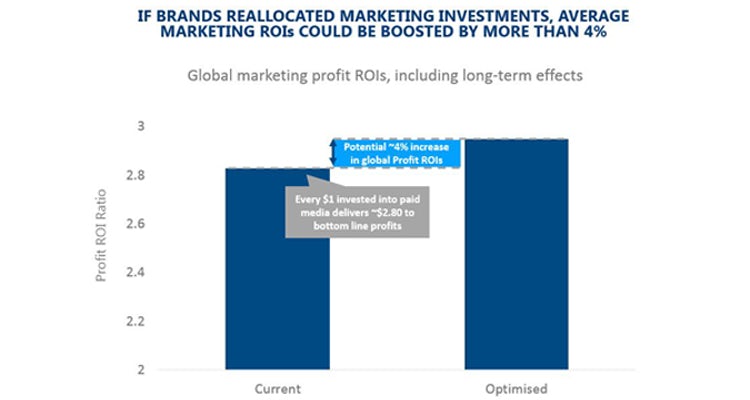 Source: Ebiquity
The research aims to provide marketers with a global view of how misallocation of media can impact profitable growth. While, of course, optimal allocation will vary dependent on geography, category and the target audience, it suggests there is still much work for marketers to do to ensure they are getting the best possible ROI.
READ MORE: Marketers undervalue the impact of traditional media channels[1]
In particular, the Ebiquity data suggests brands have significantly over-invested in digital display as they follow consumers online. In part this is because digital display is a relatively expensive way to reach audiences at scale and also because consumer behaviour online is not as conducive to generating ROI, according to Ebiquity CEO Michael Karg. And it suggests there is an opportunity for brands that invest in online video.
The data comes as some major brands are cutting marketing budgets as they look to take cost out. "We are saying be careful of that because it can actually reduce growth and profitability. Think more about reallocating," says Karg, speaking exclusively to Marketing Week at Cannes Lions.
"Too many have gone too far in some channels and not far enough in others. In principle, there has been too much money going into display advertising, for the big advertisers. If you need to reach a large audience there are different channels to do it much more effectively. Don't blindly invest because X% of your audience is online."
The hope is that the research will "give a bit of confidence" to CMOs to be able to show CEOs and CFOs that marketing is an investment not just an expense. And to ensure CMOs are being channel neutral, allocating budgets based on data not just having goals such as 30% of spend being in digital.
"This study gives back a bit of confidence to say marketing spend is an investment not just expenditure. It drives growth. There are some digital formats that really work, but for many TV works really well as well. You really have to rethink what you're doing, using analytics to drive optimisation and be channel neutral," explains Karg.
"We hear a lot about buying where target audiences spend time; senior management comes back and says but isn't our young audience spending 30% of time online, go buy display ads. That's not very scientific. We want to give the confidence to say we need to figure out what works for us and optimise allocation based on that."
While the figures are scaled up to get a global view, marketers will have to individually understand what optimal budget allocation looks for their brands in different categories and different markets.
"[Marketers] should look at how much they should spend, on which brand, allocated across which channels. That helps give a broad view, but then they have to go down into the real implementation of it: how do I get the best creative, get it testing right, get the best consumer analysis and buy it most efficiently?" says Alan Rutherford, Ebiquity's chairman.
"But the big picture is, am I spending the right amount and what sort of return do I think I'm going to get on it? This helps justify the role of marketing and marketing budgets and going to the board and saying I need this amount of money because here's all the modelling that shows it."
back to top