Amazon's Twitch on why brands should see it as the 'Gogglebox of live streaming'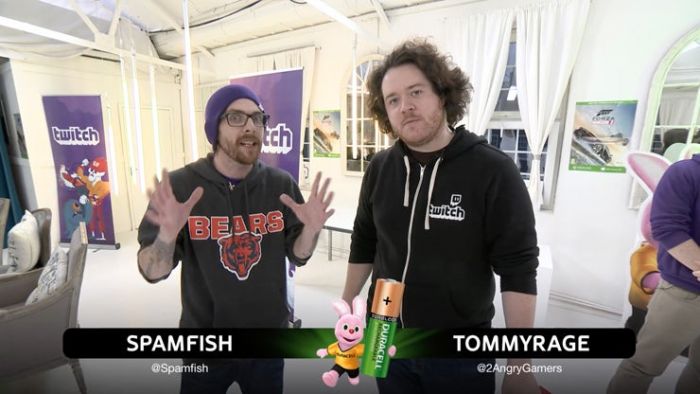 Twitch links up its most popular influencers to promote brands such as Duracell
When Amazon splashed out $970m (£585m)[1] to acquire Twitch back in August 2014 more than a few eyebrows were raised. Twitch, which also comes in app form, is an online platform that allows gamers to watch live streams of other gamers playing games. It works by connecting directly to their Xbox, PlayStation[2] or mobile gaming platforms and recording the action live. A good idea, sure, but not something that necessarily screams out major mainstream success.
However, the numbers, along with the subsequent rise of eSports[3] and mass live streaming integration within the likes of Facebook and Twitter, would suggest Amazon saw the right kind of potential.
Twitch has grown to more than 100 million users, with 9.7 million using it daily and 2 million broadcasting live videos every month. The average amount of time an active Twitch user spends on the platform daily is one hour and 46 minutes, while in 2016 users watched 292 billion minutes of Twitch streams.
The next chapter for Twitch is to establish itself as an advertising channel. Over the last year, it has started working with the likes of Nike, Apple, Netflix and Kellogg's. For the latter, Twitch says it successfully pitched "storyboards like an agency," selling the concept of a 30-second pre-roll ad for the Krave cereal brand, which utilised one of Twitch's most famous gaming influencers. And Twitch's VP of sales for Europe Steve Ford says this work is only just the beginning.
He tells Marketing Week: "When I introduce Twitch to new advertisers, I tell them 10 years ago if I had told you the most enjoyable TV show would be one about watching other people watching TV shows, you would say I was bonkers. Yet here we are.
"Twitch can be the Gogglebox of live streaming. The fact we filmed an ad for Kellogg's  just for our platform shows how far we've come. We really believe the world's half a billion gamers is a market we can realistically target."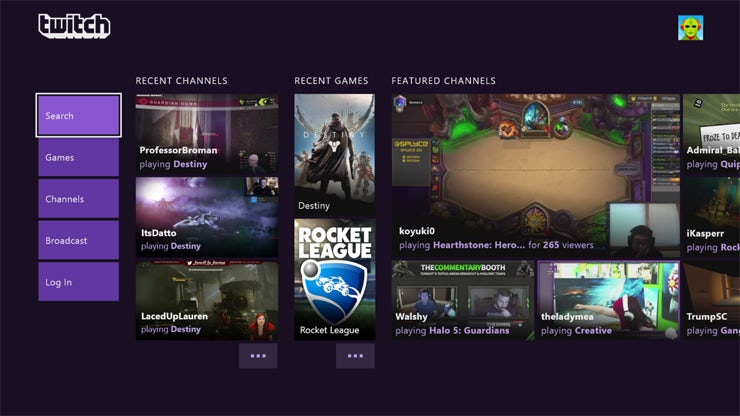 The Twitch dashboard when accessed on an Xbox One
The crucial part of Twitch's appeal to brands [of which non-gaming brand ad revenues overtook gaming brand ad revenues in 2016] is how it can align them with a passionate millennial audience, according to Ford.
He says the fact Twitch only activates mid-roll ads during live streams with partnered broadcasters means the overall advertising experience is less intrusive than its social media rivals. The theory is by having less ads this creates more engaged users, who are more receptive to the branded content they do receive.
"Compared to other experiences, our ad experience is very light and non-intrusive," he explains. "When you come onto Twitch you only have a default 30-second pre-roll ad. We only really show mid-roll ads if it's a partner broadcaster and that's because we're very careful on balancing the ad experience with the content as we wouldn't want to upset our community. We don't want to overwhelm people."
In order to make more celebrities out of its community, Twitch has also introduced new streaming channels such as IRL – In Real Life. It means people who broadcast live streams on Twitch aren't just restricted to focusing on playing video games. It has also branched out into live one-to-one chat – of which it claims 14.2 billion chat messages have already been sent –  and created friends lists in its bid to become more of a mass social network.
Twitch can be the Gogglebox of live streaming. We really believe the world's half a billion gamers is a market we can realistically target.

Steve Ford, Twitch
Ford says these new features have been enabled due to the close relationship it has with owner Amazon. Its parent has also helped Twitch users to grow by linking it up with its Amazon Prime subscription service. "In retrospect, Amazon was probably the best company to acquire Twitch as it has a non-stop focus on investing in innovation," he adds.
"We have hit 1,000 employees under Amazon and that's because it has allowed us to invest in software engineers and product people to help constantly build out the platform for creators and the community."
As an ad platform, live streaming has its detractors, with Marketing Week columnist Mark Ritson certainly among them.[4] Ford, however, isn't phased and says live streaming provides the "deepest engagement levels" any video content can offer.
He concludes: "From the Super Bowl to the World Cup, some of the biggest audiences TV has ever gathered is through live events, so live streaming is the natural next progression from that. It is only going to get bigger and bigger, and we want to lead the space in the most authentic way possible."
back to top